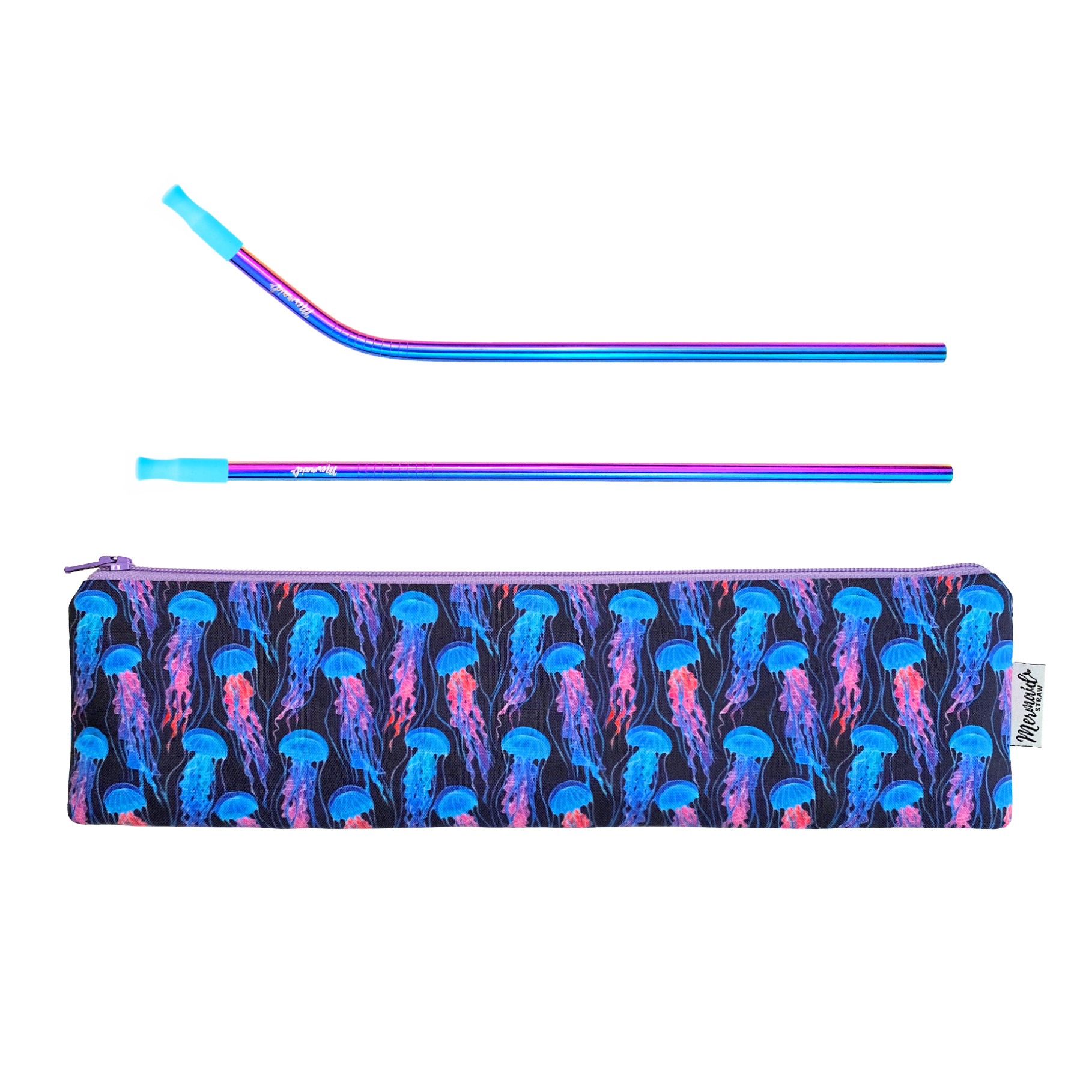 Jellyfish Stainless Steel Pack
Sale price
$25.00
Regular price
Product description
Product reviews
Shipping & Returns
Our Jellyfish Stainless Steel Pack has been curated with our colorful Jellyfish Zipper Pouch, one long curved & long straight Mermaid Stainless Steel Straw, two 6mm Sky Blue Silicone Tips, and two Cleaning Brushes. Pouch can double as a reusable snack bag as well! 
Pouch features include:

Waterproof/food safe wipeable inner lining

Eco-friendly, water-based pigment inks and dyes

Fabric printed on demand which produces very little waste

Fits regular, long, smoothie, boba, mini, and telescopic straws & all flatware
Pouch is machine washable
Straws and tips are dishwasher safe
*Every pouch is hand made and unique so the patterns will vary.* 
Pouch:
Height: 3 in.
Length: 11 3/4 in. 
Stainless Steel Straws:
Length: 10.5"
Diameter: 6mm
Warning: Silicone Tips may be a choking hazard for children under 3.
Jellyfish Stainless Steel Pack
Exactly as expected!!!
Came in quickly fits plenty of staws!
waar zijn die plastic dingen toch voor?
Ik heb eerder een bestelling gedaan en was zeer te vreden! ik b egrijp alleen niet waar zijn die plastic dingen toch voor zijn? ik ga zeker nog een bestelling doen hoor!! xx
I like it a lot
I use it every day and this may be some weird remnant from my childhood, but I swear using a straw encourages me to finish my drinks more. So never having to get new straws is nice for that. Also the colors are pretty ((: I will say I don't much care for the rubber tips, but you can take them off and that's probably just a me thing.
We are so glad you are happy with your purchase, Reiley! Thanks so much for providing feedback, we hope to see you again soon!
Not my jelly
This pack is adorable. Love the jellyfish. Love the metal straws. Glad to have them.
Hi Lindsay! We are so glad you love your purchases! We hope to see you again soon!
Shipping
Orders are typically processed within 1-3 business days. Shipping times depend on location and mail service selected. To eliminate waste, we use as little outer packaging as possible, and not every package will look the same. See Shipping Policy for details on shipping methods, costs, delivery times and conditions.
Returns and Exchanges
Due to the nature of our product and our commitment to be as packaging free as possible, we only replace items if they are defective or damaged, but we do not accept any returns or exchanges. See Shipping Policy for more details.