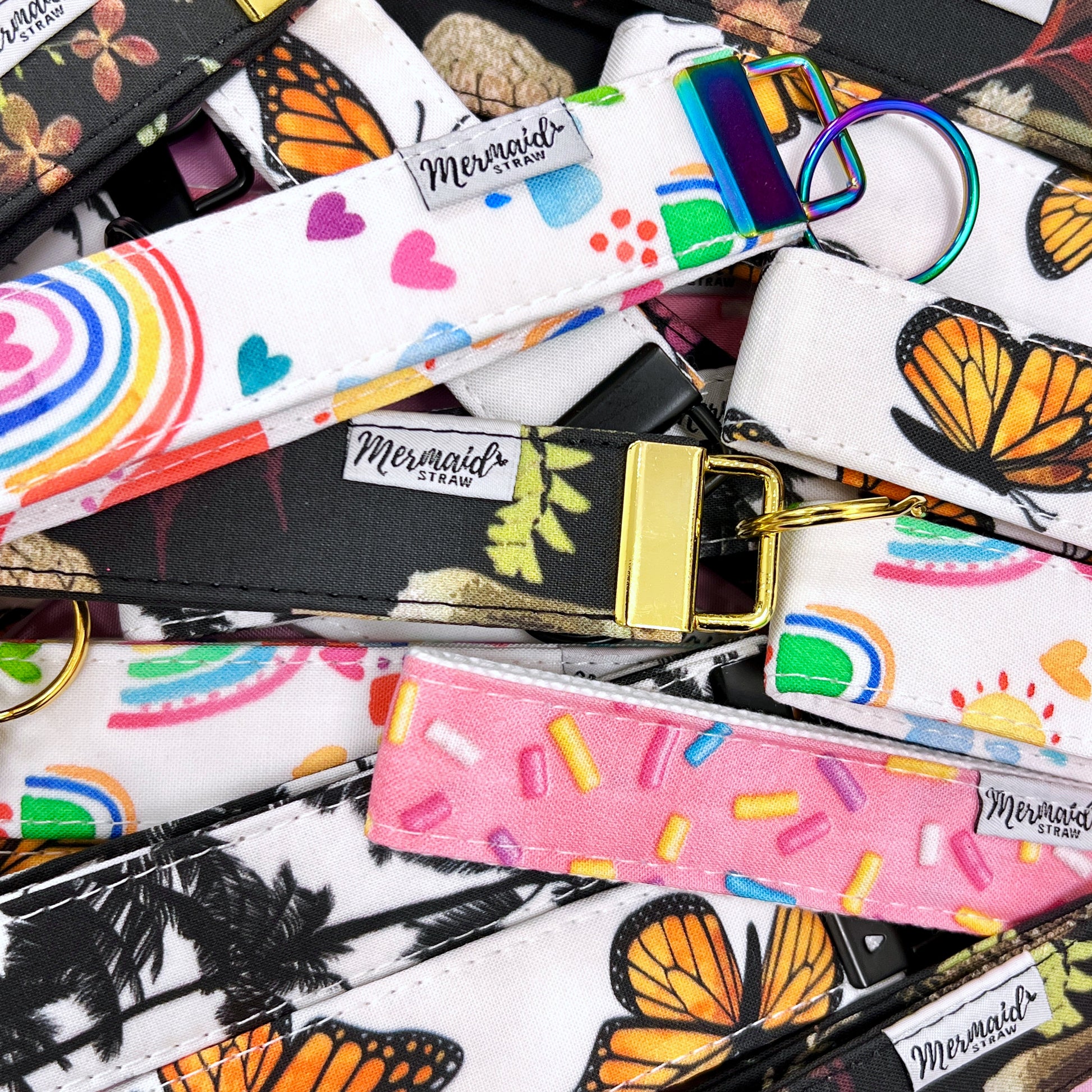 Sale price
$10.00
Regular price
Product description
Product reviews
Shipping & Returns
Our Mystery Keychain is created from the offcuts of the Monthly Mystery Zipper Pouches over the months and makes for a fun surprise and a cute accessory. It's a perfect way to carry your keys, lip balm holder and reusable Telescopic Mermaid Straw. The sturdy 10 inch loop makes it so easy to find your keys in your bag or purse or wear on your wrist. Pattern picked at random.
Features include:
Made with fabric offcuts from our Monthly Mystery Zipper Pouch to eliminate wasted fabric

Eco-friendly, water-based pigment inks and dyes

Colored hardware will vary depending on the pattern
10 inch loop that comfortably fits around your wrist
Mermaid Straw logo tag
*Every Keychain is hand made and unique so the patterns will vary.
Dimensions:
Width: 1 in.
Length: 10 in loop
Accessories
I absolutely loved everything that I ordered.
Thank you for your kind words! We're so glad you enjoyed your purchase.
Keychain
I have a question could you guys create a mini monarch butterfly zipper pouch off of the offcuts of the monarch butterfly zipper pouch
While we don't have plans to create a Monarch Mini Pouch, this doesn't mean we won't consider it in the future! Thanks for the suggestion!
Fantastic
Absolutely beautiful and love it completely
This is so sweet, Alex! We are so glad you love it completely, and we hope to see you again soon!
Mystery Keychain
I received the mushroom garden mystery keychain. I absolutely adore it! I wish the print was situated a little bit better to see more of the super cute pattern, but it's still functional and cute, and I just love it. Maybe it will open dialog from people to ask what it is and I will tell them all about Mermaid Straw! It is SO much easier to find my keys in my bag! Now to just get some more gold rings to match the existing hardware. 💙 Thanks Mermaid Straw!
Hey Krystal! Thanks so much for taking the time to leave a review! We appreciate your feedback very much! We can't wait to see you again!
Perfect size
These keychains are super cute and the perfect size. Not too bulky for fitting into a pocket or purse, but big enough to find easily in your bag.
Thank you so much for taking the time to provide your feedback! We are thrilled to hear that you like your keychain! We hope to see you again soon!
Shipping
Orders are typically processed within 1-3 business days. Shipping times depend on location and mail service selected. To eliminate waste, we use as little outer packaging as possible, and not every package will look the same. See Shipping Policy for details on shipping methods, costs, delivery times and conditions.
Returns and Exchanges
Due to the nature of our product and our commitment to be as packaging free as possible, we only replace items if they are defective or damaged, but we do not accept any returns or exchanges. See Shipping Policy for more details.