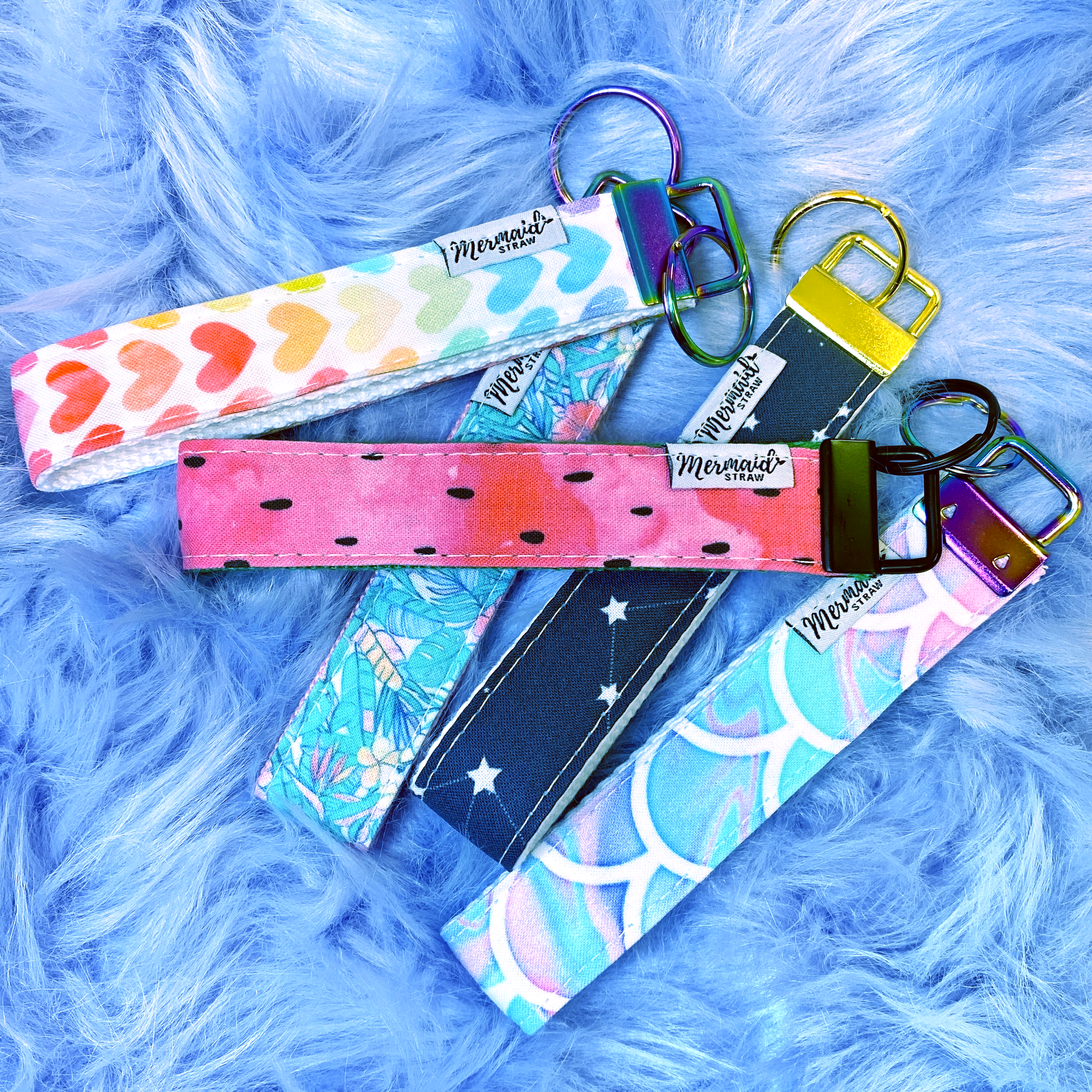 Sale price
$7.50
Regular price
$10.00
Product description
Product reviews
Shipping & Returns
NEXT OOPS SALE STARTS ON OCTOBER 27TH! Be sure to click NOTIFY WHEN AVAILABLE to be notified as soon as the next OOPS sale starts, so you get first dibs on your favorite OOPS products!
This OOPS Mystery Keychain is created from the offcuts of our Zipper Pouches and makes for a super adorable accessory. It's also such a fun and cute way to carry your keys and reusable Telescopic Mermaid Straw. The sturdy 10 inch loop makes it so easy to find your keys in your bag or purse or wear on your wrist.
Features include:
Made with fabric offcuts from our Zipper Pouches to eliminate wasted fabric

Eco-friendly, water-based pigment inks and dyes

10 inch loop that comfortably fits around your wrist

Mermaid Straw logo tag
Handmade in small batches in Northwest Indiana
Supports local business
*Every Keychain is hand made and unique so the patterns will vary.
Dimensions:
Width: 1 in.
Length:

 10in loop
Keychains
This is my first time ordering the keychains and I love how sturdy they feel! Great quality I definitely will be buying more!!
Thanks for the review! We're glad you're happy with the quality and performance of our keychains.
Love them!
Really well made, very cute designs. I have one of my work keys and one for my personal keys. I picked the "mystery" version and although they weren't the ones I would've picked myself, I still love them and the element or surprise.
Thank you for the kind words! We're glad you're enjoying the Oops Mystery Keychains!
Keychains❤️
I love this mystery keychain except i got 3 of the same style😅i wish could've given 3 different styles
Shipping
Orders are typically processed within 1-3 business days. Shipping times depend on location and mail service selected. To eliminate waste, we use as little outer packaging as possible, and not every package will look the same. See Shipping Policy for details on shipping methods, costs, delivery times and conditions.
Returns and Exchanges
Due to the nature of our product and our commitment to be as packaging free as possible, we only replace items if they are defective or damaged, but we do not accept any returns or exchanges. See Shipping Policy for more details.